Powerful Steps How To Convert Website Traffic Into Sales
How to convert website traffic into sales is one of the most common struggles that business entrepreneurs and online marketers have.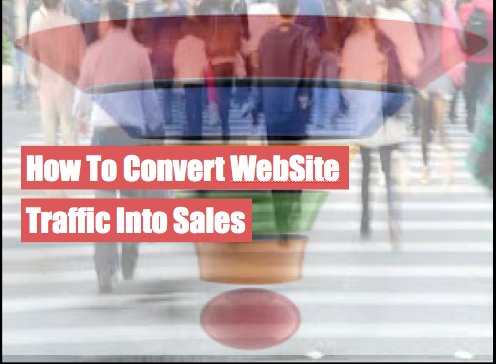 Generating website traffic is time consuming and expensive task, so why not converting each and every visitor who visited your website into sales?
Maybe you've managed to create a stunning website and drive consistent traffic, but you don't know how to convert website visitors into sales?
Online business success is not all about how much traffic you can drive, but how much conversions you can make.
When I first got started with my online business back in 2013, I never had any knowledge how to convert traffic into sales nor a skill to help my services or product sell. 
So, what I did is to invest my time learning about consumer's behaviour and I mainly focused on attracting customers through relevant content by giving them more value of what they are asking for. The strategies alone helped me structure the right foundation for my business.
On this post, I will share with you a simple, but powerful steps that you can apply to help you get more leads, more sales & even start building your own customer data base that you can control and own.
How To Convert Website Traffic Into Sales
Create Engaging Content:





Engaging is the term here and not simply creating 300-500 words of content. 

You need to remember that you are creating this content to help those people searching from google search.  That means your content should be engaging. The best way to know if your content is engaging is to put yourself on your user's shoes.Here are some questions to ask yourself before posting your content to the world wide web.- If you read it, is it engaging to read all the content?
– Do you like the tone and layout of your content?
– Is the content helpful to what you are looking for?
– Is the content informative to satisfy your needs?
– Are you going to take action, such as clicking the call-to-action buttons after you read the content?
You want people to like your content enough that they share it and trust you, your product or service. Present your content with great value and add some visuals like images and videos.
2.  Provide An Irresistible Takeaway:
Offer some type of "value content" takeaway. Serve up something useful to your audience for free in exchange for information about themselves and you will win fans.
This takeaway offers is essential not only on converting your website visitors into leads, but also on retaining & maintaining your existing leads. 
Whatever is your business niche, your takeaway might include a video, ebook, cheatsheets, an app, slide presentation or free trial. These freebies also may make your target audience more responsive to your messages or to start trying your product or services.
One of my "value content takeaway" is my training videos dedicated to people who wants to breakthroughs. On this training video, I have put together the breakthroughs mastery formula how to start building your "own" online business from home to design your future.
Now, if you want to breakthrough and experienced some struggles with your finances & wants to earn extra income from home, then I'll present you a solution. The probability for you to purchase my product or service is higher due to your needs.
It is important that you create an offer that can't be refused.  Your takeaway offer must be related to the solution (your products or services) that you are trying to sell or promote.
3.  Create your Squeeze Page or Landing Page
Once you already nailed down your takeaway offer, it's about time to create your squeeze page or landing page. This landing page is where you can capture the contact details of your target customers. A powerful strategy how to convert website into sales.
Let me show you the landing page that I've created for people who wants to breakthroughs financially.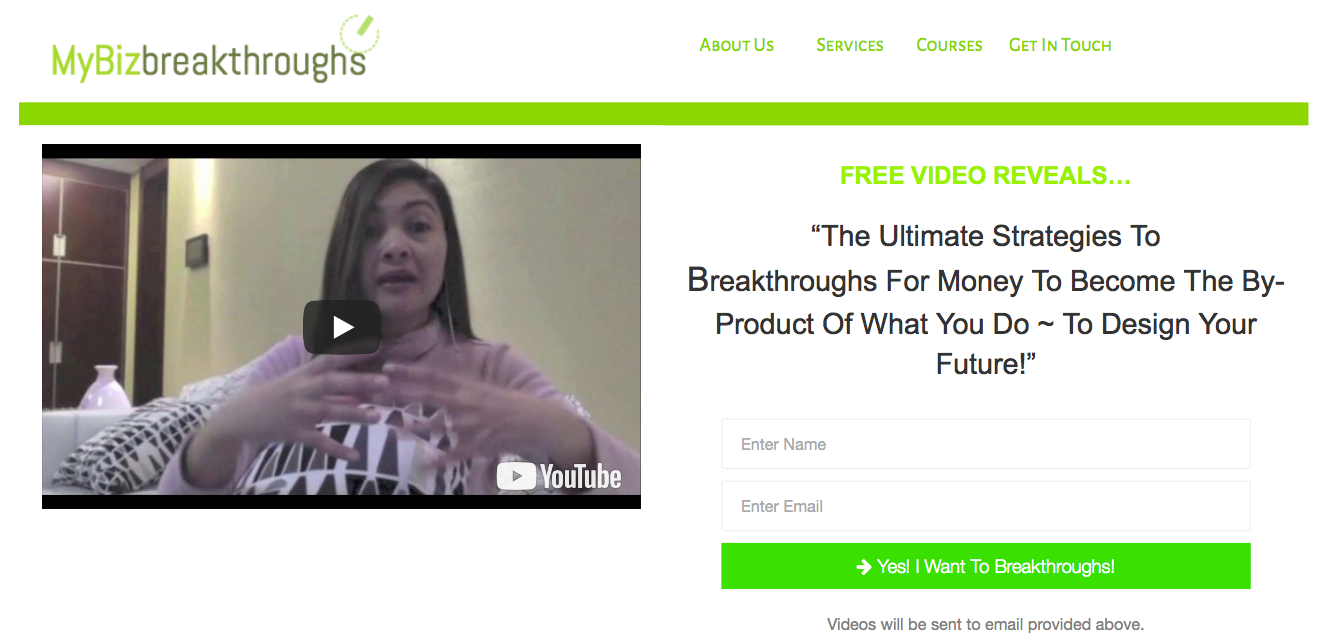 Tips in Creating your Landing Page:
Create a specific and actionable headline
Explain the offer clearly and emphasize on the value
Be a minimalist by emphasizing the benefits of your product or service
Include bullet points, image, or a short video
Keep your form short
Test & Tweak!
4.  Create Your Thank You Page
A thank you page is where you will direct your users once they took the action that you want them to do in your landing page. Let say, if a user who is interested to "breakthroughs" for money to become the by-product of what they do (based on my landing page above), my thank you page is a place where my visitors will be redirected after they sign up on the form on my landing page.
Depending on your goals, align your users needs or intent when you create your thank-you page from how far you would like them to move on your sales funnel.
5.  Create A High Converting Sales Funnel
A sales funnel is a marketing structured process that you intend your customers to experience as they go from prospect to lead –  to customer –  to repeat buyers once they landed to your website.
As a business owner, you must understand this better than anybody else because sales don't happen instantly.
You don't need to overcomplicate it and spend months building out a complex labyrinth that will just confuse your prospects. You can just simply execute a powerful sales process after a visitor voluntarily give you their contact details such as email and name from your landing page.
RESOURCES: How To Create A High Converting Niche Funnel
6.  Create Your Automated Email Sequence
When someone has been turned into a lead from your landing page or squeeze page, it's time for you to make this user to become your customers & repeat buyers.
To create an automated email sequence, you need an email autoresponder service provider.  Email marketing is an efficient & effective way to enrich business communications, targets specific key markets and this is the most cost-effective way to stay connected with your prospects, existing clients & future buyers.
RESOURCES: Email Marketing How Does It Works?
7.  Set A Google Remarketing Campaign
Remarketing is a great way to stay connected to those people who already visited your website, but did not convert. Remarketing is a great & powerful way how to convert traffic into sales.
Using remarketing, you can create targeted ads with Google Adwords, so you can follow those people who previously landed to your site & remind them to finish the actions they've left.
For example, you can use remarketing to the people who have visited your landing page but didn't sign up to your newsletter or download your ebook or videos.
Remarketing, can dramatically increase your conversion rates and ROI.
That's all for now…
I hope that this post helps you how to convert traffic into sales.
Looking to learn more about advertising on Google?
Click here for my FREE Training how to take out all the guesswork & stay in control of your advertising budget & pay only for results!
CONCLUSION:
Bottom line, at the end of the day for entrepreneurs and marketers like you and me, the most important is to apply what's necessary to your business now and make sure that you watch your metrics such as how much you are paying for leads (CPL), ALV (average lead value), CPA (cost per acquisition), your ad spending versus your earnings.
I would love to hear from you – what are your current steps you do how to convert website traffic into sales?
Let's connect by following me on facebook or you can take me as your breakthrough guide to design your future!