How To Make Passive Income Using Your Laptop
How to make passive income is one of the common question for people who wants to escape the corporate world as well as for those who are struggling with their finances.
If you go to Google and type this query "how to make passive income", you'll see different ways how to do it.
Free money? Sign me up!
Unfortunately, that's a common misconception. Generating passive income requires money, right education, right timing and hard work.
What is Passive Income?
Passive income is income that you derives from property rentals, stocks or mutual funds dividends, interest or online income from a high converting niche funnel.
That typically means that you continue to make income with no or very little effort on your part to maintain that cash flow.
The reason you generate a passive income is because it's not connected to your time, which gives you the freedom to do other important things with your time.
Why Passive Income Sounds Appealing?
Establishing a multiple streams of passive income, I uses my time freedom to travel when my daughter & husband are both free from school & work.
For example, this year I couldn't believe that I've been to several countries.
My family took a 2-week trip to Europe where we visited London, Scotland and Northern Ireland. We had a short getaway in Bali, Indonesia & Singapore. I had one month vacation in the Philippines, I travelled to some parts of China –  ShenZhen, Shenyang, Benxi & Beijing.  I visited Macao and travelled to HongKong 6 times this year.
I've designed my life to be free and flexible because the more you're earning passively, the less you're becoming a slave to money.  I can go where I want, when I want and do the things that I love.
I put all together all my family travel moments, laughters, food, excitement and great experiences traveling around the world  to keep friends and families informed Just click here to see my travel diary.
What Passive Income Can Do For You
Passive income is important for the security it can offer. Building your passive income may take risk, time & investment when first establishing it, but once you take the initial steps to set the money making wheels in motion, passive income will continuously come from the different sources.  It offers great security because it's not connected to your time.
So, for example, if your spouse lost his/her job or gets sick or if your boss fired you, the idea of passive income is you'll still be earning some passive income to pay your monthly bills.
No matter who you are, what your age is or what is your current bank balance,  the faster you can build your passive income, the better off you can design your life into your liking.
Passive Income Ideas To Get You Started
In the meantime, you can start small with these ideas that I will share with you, then work your way up!
The possibilities are endless, so think outside the box. Here are some passive income ideas to get you started online using your laptop.
1. Earn Passive Income from CPA Networks
CPA stands for Cost Per Action. PeerFly is one example of CPA network. A CPA network is like a marketplace for many affiliate programs.  Several big companies listed with Peerfly like Mcdonalds, Walmart, H&M, Uber, Disney, Agoda, Target, etc. These companies pay per lead or sales.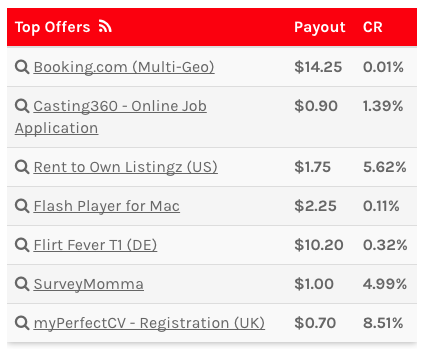 Before You Join
There is no cost to join Peerfly's network. If you have a website or blog site, you can choose any CPA (cost per action) that you would like to promote in your site.
It is better to identify first your niche, so you can choose those CPA's related to your chosen industry.
What I liked With Peerfly
They are one of the top CPA network and using their platform is, much easier to use than other networks'. They have more offers to choose from and they have a forum for their member's.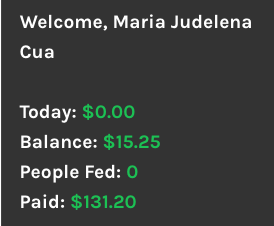 Honestly, I am not that active with my PeerFly account.  You will see the screenshot of my earnings from PeerFly.
But, I just want to show you that this is doable to earn passive income from the comfort of your home. If you want to create an account with PeerFly, just click here
2. Creating a Website

Building and launching a profitable website can be difficult because of the competition, but your startup cost in building a website is minimal.
Determining how much a website cost is the main concern.
When I decided to build my own online business back in 2013, I didn't even know how to build a website, I didn't have any technical skills.
Click here to see how much will cost you to build a website.
How To Earn Money From Website?
To earn passive income from a website, you can create your own product, create an e-commerce business or learn about affiliate marketing. Affiliate marketing is all about promoting other people's product. We'll talk about this in item no.3.
3. Affiliate Marketing
When you understand which kinds of products your readers will purchase and if you're comfortable recommending products to your readers, then you can consider to look into a better affiliate programs. A commission of around 50% or more for higher-priced products is very common.
But you probably don't want to just pick random products. You need to choose the right product that will fit your chosen niche.
For higher-priced offers like online courses, the creators will often reach out to recruit affiliate partners directly, rather than make their program open to anyone. This helps ensure higher payouts for each affiliate.
After several months of experimenting on how I can help people to make passive income, I am so happy to see some people already made their first dollar online. It's proven that even you spend 1-2 hours per day, this will help you make extra passive income.
Watch this short video, how Joy made her first $248 online.
How Can You Start Building Your
Own Passive Income Online?
I have good news!
If you want to join our Affiliate Program showing you exactly how you can earn 70% commission from MyBizbreakthroughs in promoting any of our available High Value, Results-Driven Online Courses, you can join our Affiliate Program for free.
You can earn extra money from Affiliate programs and even a full-time income from home. You're essentially paid for referring new clients and customers.
I hope this post helps you on your journey in establishing your passive income online.
If you find this post valuable, leave your comment below. I would love to hear & help you to design your future.