What is an Effective Sales Funnel?
An effective sales funnel is a multi-step process that moves a prospects into buyers. Your primary goal with your sales funnel is to move people from one stage to another until they are ready to purchase your product or use your services.
If you are running an online business you need to understand the importance of an effective sales funnel. This is for you to convert more customers into buyers.
Now, be honest to yourself….
Have you ever spent tons of hours writing great contents, building an attractive & beautiful website or even building your mailing lists, but when you look at your bank account or revenues it seems everything doesn't work to what it should be?
And so you get frustrated and wanted to give up your online business.
Have you ever been there?
In this blog post, I will share with you how you can create an effective sales funnel  for you to get the end results that you want for your business.
Understanding The Flow Of A Sales Funnel
From the time your prospect landed to your website until the moment he or she buys from you, your users passes through different stages of your sales funnel. Now, if you don't have a sales funnel in placed, then you are missing a lot in running your online business successfully.
A prospect journey might differ from  another depending on their stages inside your funnel.
So, you can create your sales funnel with as many stages as you want.
Here are some stages to consider in creating your sales funnel.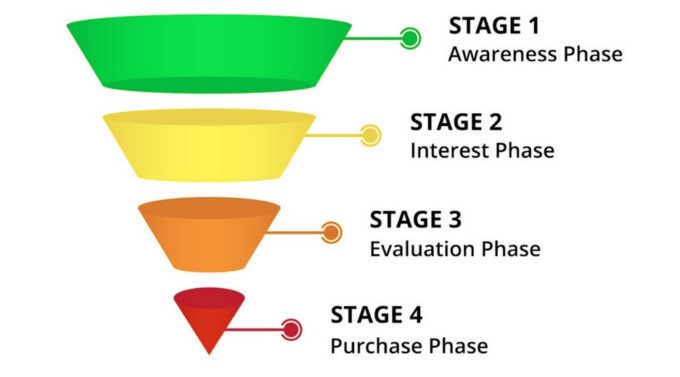 Awareness Phase:
At this awareness phase, the prospect learns about your website. Either this prospect landed to your website using Google Search, YouTube video, Social Media's, Articles or through Paid Ads.
Now, you need to understand that these people who landed in your site found something relevant to what they are searching for.
They are typically looking for answers, solutions, related insights, opinions or any research data that can help them about their inquiries.
These are people that have shown interest in key areas of what your business does but are early in their buyer's journey.
Interest Phase:
People in this stage will visit other pages in your website.  Pages like services, about us page, product pages or area of your business, product or services expertise.
Website visitors are not created equal. Some of your website visitors are just simply surfing around, prospects educating themselves, leads who will volunteer to receive more information from you, customers or complete strangers. Some will be engaged and qualified, while others are not.
Evaluation Phase:
People in this evaluation or decision stage will normally visit your product pricing, testimonials, product review and contact us page.  They will look more on the benefits of what they can get from your product or services.
This stage is very critical since your prospect is more likely to buy from you soon.  You need to be responsive enough to bring this prospect to the last stage of your funnel – the purchase phase.
Purchase Phase:
This is the last phase or stage of your effective sales funnel. The action of  buying your product or using your services.  This is where people are figuring out to become a customer.
Keep in mind that funnel stages may look  different depending on your business model, product, pricing, and audience.
How To Improve Your Sales Funnel Conversion?
For you to improve your sales funnel conversion is to create a trigger in every stage of your funnel and must have the tools to deliver this like ClickFunnels, Unbounce or Lead Pages. 
A Trigger is an event to help you identify your buyer's need, which usually converts into a sense of purpose and urgency in their buying process inside your effective sale funnel. This is also an effective way to optimize your lead conversion funnels to triple your profits fast. 
Let me give you an example of what a trigger is…
Last week I accidentally poured my lemon water to my computer.  My computer stops working.  This might cause me to browse around the web to check the latest versions of MacBookAir.
This scenario act as a trigger for me to look around the internet either with a clear intention to buy a new one or just simply check some reviews or feedback about the version that I intended to purchase in the Apple store near my place. 
Identify who to target for your business or services

Tailor your messaging to those target users

Qualify your prospects to each stages of your effective sales funnel

Improve your strategy to  get them into a serious buying model
That s all for now. I hope this post helps you create your own effective sales funnel.