Drive Fast Traffic To Your Website in Less Than 24 Hours!
Can you drive fast traffic to your website in less than 24 hours?
There are several methods to drive fast traffic to your website and yes, you can drive 1000, 10,000,100,000 or even more in less than 24 hours to your website.
But, here's the thing….
Most online entrepreneurs are eager to drive traffic to their business, but you also need to understand that traffic is not created equal.  If you already watch the above video, I showed you how easy you can drive traffic to your site – whether you are promoting an affiliate product from ClickBank, your own product or just simply driving traffic to your website homepage or blog post.
Driving Fast Traffic is The Easiest Part of Your Business, Believe Me…
In business world, you can have the most attractive well designed website selling the best product or services in your industry, but if you don't have a constant flow of traffic that converts, then better to stop first what you are doing.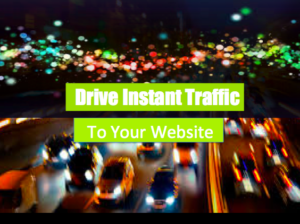 Understand that your website is just like any other form of marketing.
Ask this question to yourself.
Do you properly defined your target audience?
Or do you know who you're speaking to?
You don't just drop tens of thousands of dollars sending fast traffic to your site without any knowledge who you're speaking to, do you?
Look for your specific target market. Who you think is your customer avatar?
Your website should speak to those in your target market(s), speak their language, and be full of benefits for them.
Instant Fast Traffic with Rebrandable Traffic
What is Rebrandable Traffic?
Rebrandable traffic platform is a website traffic distribution system that pulls traffic in from over 31 thousand websites around the world.  The rebrandable traffic simply deliver visitors to your site, but you need to take note that these traffic are coming from different sources (thousands of different sites), which means you don't know exactly from which sites they are coming from (difficult to identify) and what they see first before they land to your website.
Are these traffic your target market? Nobody knows.
HERE ARE SOME SOURCES OF THE REBRANDABLE TRAFFIC:
PPC/Contextual                   In-Text Advertising
Google Adwords                     Infolinks
Bing/Yahoo                             50onred
Miva                                          Inlinks
7Search                                    Admanage
LookSmart                              Kontera
AdKnowledge                         Admedia
Affinity                                    Snap LinkAds
Marchex                                  Linkworth
AdMarketplace
FindItQuick
Social Networks                Media Networks
Facebook Ads                        Doubleclick
My Ads                                    Advertising.com
POF Ads                                  Microsoft Adnetwork
Reddit Ads                              Tribal Fusion
LinkedIn Ads                          EngageBDR etc..
And so much more…
HOW DOES REBRANDABLE TRAFFIC WORK?

Rebrandable traffic network have large contracts with different traffic networks, they advertise on many of the ad networks listed above – click here to see their full lists.  From all these sources, traffic is obtained then redirected from these ads directly to rebrandable traffic customers.
Rebrandable Traffic Network duty is to provide you guaranteed traffic to your website, but you need to understand that they are not responsible for any sales or activity within your website.
There are several factors that you need to consider to convert your traffic into leads or sales.
Best Tips To Increase Conversions
First, you must attract the community that is unfamiliar with your business – if you are driving traffic like from rebrandable traffic or solo ads traffic (not laser targeted traffic)
Learn how to engage those traffic and start building trust
Educate those traffic who shows interest to your product/services
Convert those traffic who are ready to purchase or use your services through your funnel
Rebrandable traffic network commitment is only to bring instant fast traffic to your website at the lowest price possible. Their guarantee is ONLY to deliver visitors to your site, but the conversion will be all depending on how we deliver our message to our audience and our strategy.
Think of moving your customer through your sales funnel instead of trying to convert a prospect into a sale right away. Consider to walking your prospects through your funnel step by step, understand your customer where they are at your funnel and you'll convert more prospects to customers in time.
We hope this article helped you increase your sales funnel conversion rate by optimizing the rebrandable traffic network.
—————————————————————————

I'd love to hear from you. Which traffic sources work best for you? Leave your comment below.