Best Passive Income Ideas For 2018
4 years back I was dreaming to build my own online business from home. I've spent tons of hours thinking about all sorts of different ideas for making passive income online.
I want to live at my own pace, automate my business and be my own boss.  I was looking for the best passive income sources but, I couldn't find any program to help and guide me how to do this.
Now, the question is…what really works?
What is Passive Income That Will Create Wealth?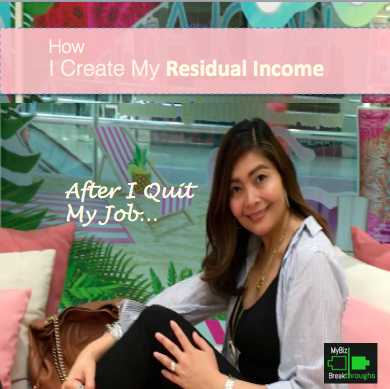 Here's my best description I can give you about building a passive income online….
Once you takes the initial steps to set the money making wheels in motion, income will continuously come from the different sources without putting additional effort into it.  Building a passive income takes time and effort more than anything else in the beginning and this will not happen overnight. I'm talking about the effect after you do the hard work up front.

3 BEST PASSIVE INCOME IDEAS TO MAKE MONEY WHILE YOU SLEEP
By choosing the right sources of passive income, you can spend your time the way you want to spend it instead of the way you "have to" spend it, but of course you need to fully understand how to manage your time effectively by starting your day with a purpose.
Let me share with you some ideas that I personally applied and I hope that I can give you some ideas that you can immediately implement for this coming year.
It is always better to make a progress each day than to procrastinate.
IDEA #1:
Amazon review sites 
You can go to https://affiliate-program.amazon.com

Simply take a product from amazon, there are variety of products from amazon from books, clothing, appliances, electronics and so much more.  You can develop a website and create a domain that mainly related to any product reviews.
You can develop a content in a SEO (search engine optimization) capacity that you can generate revenue from it. Selecting the right product or products that you can resonate with, that can boost your energy each day to write something about the product (pros & cons), if you spend a little hour per week, you can put money on your pocket by doing this consistently.
It takes time to build it, but worth it to make a consistent passive income over time.
See below screenshot of some of the advertising fees I received from Amazon.
Amazon is one example of  my pebbles income that I poured-in to fill up the small gap inside my income streams pipeline.

IDEA #2:
Affiliate Marketing
Selling Other People's Product
This is a passive income strategy that can help you build your passive income fast. You can promote certain products or services on your website, for which you will earn commission from the product vendor either a flat fee or a percentage of the amount of the sale you completed.
This isn't as hard to do as you might think, since there are thousands of product vendors or companies out there who want to sell their products using an army of affiliates and want to sell their products in as many places as they can.
You can find affiliate offers either by contacting the product vendors directly, or by tapping to different affiliate network. It is always best to promote a product that you already tested and use it yourself and is highly relevant to what is your website all about.
If you really want different streams of passive income this is one of the best & efficient way.  I personally started promoting other's people product as an affiliate.  I spent 60 days consistently writing post to my blog about one specific product.  This is not an overnight success. You need to understand how to fill out your pipeline correctly to be able to bring you consistent income for long term.
Don't select a lousy product.  Choose the best product out there that you can stand behind it 100%.
LISTS OF AFFILIATE NETWORKS:
– ClickBank
– Amazon
– Clicksure
– Clickpromise
– Commission Junction
– Peerfly
– Offervault
– Ebay
– Linkshare
Now, if you love what we teach and preach here, then here's the good news…
Mybizbreakthroughs provide an affiliate program for you to earn up to 70% commission promoting some of our products listed with other networks. Let's make money together!
To learn more, just go and check our affiliate program.
IDEA #3:
Earn From The Necessary Tools
For Your Business
That's right!  You can earn from the necessary tools that you use to run your business online.
In a diversification path, you need to think different sources of income. Down below I listed some tools that I am personally using to run my online business and the good thing is, I can generate a recurring  passive income from them each month and you can do this too!
EMAIL SERVICE PROVIDER
Maybe you have heard about email marketing before, but you do not comprehend what exactly is email marketing and how does it work and why you should consider this.
HOW AN EMAIL SERVICE PROVIDER (ESP) HELP YOUR ORGANIZATION:
Sending out your email campaigns and newsletters to your database in just one click of a mouse
*
Helping to ensure your emails are legally compliant with CAN-SPAM Act regulations
*
Managing your email database by updating it based on unsubscribes, bounces, and spam complaints
*
Manage and segment your email list for targeted campaigns
*
Metrics reports of your email campaign results that can be used to set up tests to optimize your response rates
TOP EMAIL AUTO-RESPONDERS SERVICE PROVIDER:
GetResponse – Free for 30 days then, US$15/month (for 1000 subscribers)
Aweber – Free for 30 days then, US$19/month (for 500 subscribers)
iContact – Free for 30 days then, US$14/month (for 500 subscribers)
I personally use GetResponse. You can consider your email service provider as one of your source of passive income.  GetResponse can offer you either $30 credit in referring a friend or 33% commission for life!  To sign up with GetResponse 30 day trial just go HERE!
Note:  If you decided to sign up with GetResponse using my affiliate link, I will be entitled for a commission as an affiliate.  And if you do that….thank you!-:)
MARKETING TRACKING TOOL
I use ClickMagick for me to easily track my entire sales funnels performance, do my A/B split testing and rotators and to monitor my traffic quality.
Here's the screenshot sample of ClickMagick dashboard in tracking my Action Conversion Rate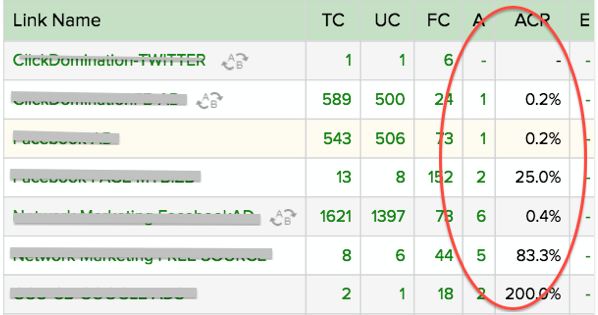 The good thing with ClickMagick, you can also earn some passive income using this tool to track your entire sales funnels.
Below is the screenshot of the commission I got from ClickMagick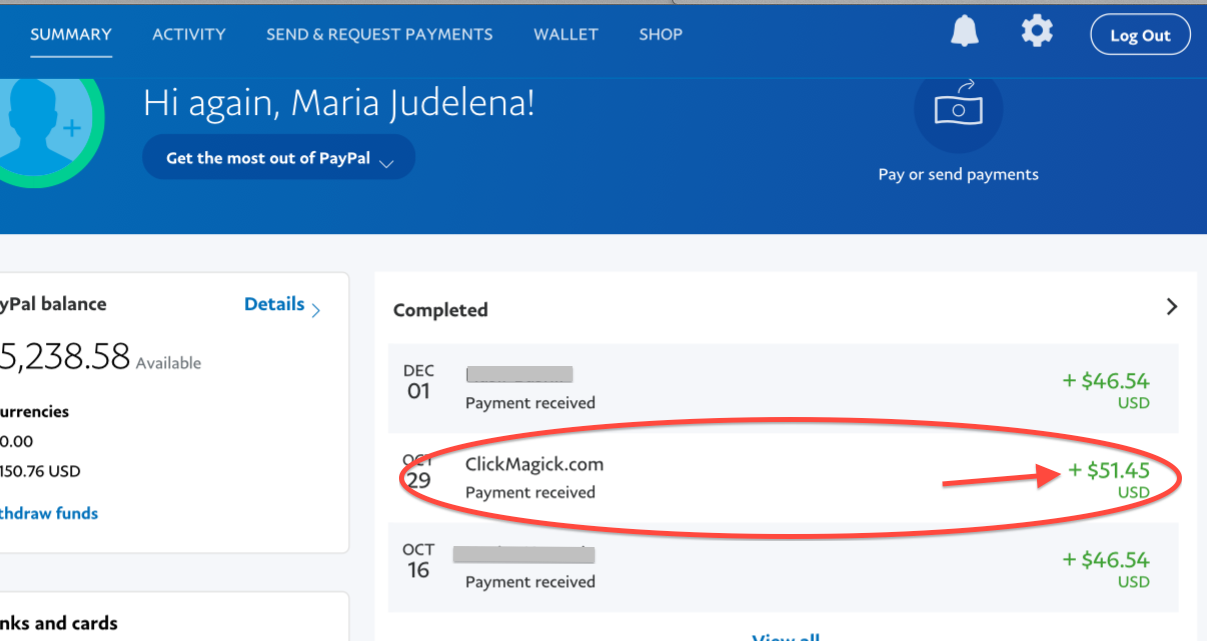 If you think this tool is for you, ClickMagick starter plan is $12/month up to 10,000 clicks/month with 2 custom tracking domain
To sign up with ClickMagick 14 day trial go HERE!
Generating a passive income from your tracking software is one example of medium ticket rock that you can pour inside your income pipeline.
FUNNEL BUILDER
If you are using sales funnel builder, you can also earn passive income from your builder.
Successful entrepreneurs knows that a high converting niche funnel is everything for your business.  
A lead conversion funnels is the path a prospect takes through your webpage which ultimately results in a lead or sales conversion. Your website traffic (visitors) will likely coming from different traffic sources, with prospects dropping off at various points in your site, those that do convert will be a smaller percentage than of the original number of visitors you are getting each day, each month or each year.
Watch this Video How I Created a Landing Page
in Less Than 10 Minutes Using ClickFunnels
ClickFunnels is a tool to makes it all possible.  Russell Brunson the founder of ClickFunnels offers an affiliate commission of 40% monthly recurring.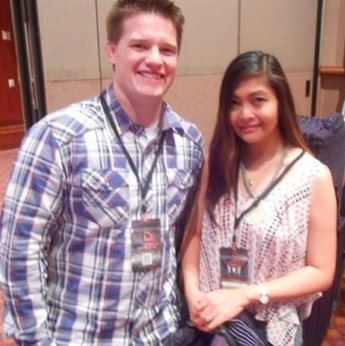 So if you have ever wanted to sell anything online, you may have heard that you need to create a sales funnel or lead conversation funnel to skyrocket your business profit.
If you're running a blog, have a mailing list, thinking to release a new product ClickFunnels will take out all the guess-work and allow you to properly market to your target customers.
There you have it!  Now, it's about time to act and prepare your future by creating your own different streams of income for this coming New Year!
Learn how to create your own breakthrough moments for you to design your life into your liking!  Here's the good news….
I've created this FREE VIDEO that reveals "The Ultimate Strategies To Breakthroughs For Money To Become The By-Product Of What You Do ~ To Design Your Future!"
This is designed for those extraordinary people committed to design their future at a level few may ever attain.
You will learn how to create your own breakthrough journey to get anything you want both in life and in business (if done correctly!) and create the stories you will tell for a lifetime as you learn, network and play while enjoying every bit of your breakthroughs process.
This content is brought to you by Mybizbreakthroughs for you to create your own breakthrough journey – A journey in designing your future!
I'd love to hear your comments below – please let me know if you tried any passive income before and how does it work for you?
==================================================