Best Paid Traffic Source To Your Website
If you will ask me what is the best and highest converting traffic source to use for your business?
Well, my answer to you is Google Adwords.
Why?
Because people go to Google with the "intention" – an intention of buying something, looking or searching for a specific thing.  Ask yourself… Why you go and use Google?
Now, if you know how to use Google Adwords platform, you can position your business in front of those people who are already searching for what you offer – BINGO!
AdWords is also the largest and most widely used online advertising network in the world, and millions of businesses advertise online using AdWords to reach new customers and grow their business so, why not tap with the best paid traffic source in the world that converts?
Every gain comes along with a cost, but the good news is…you don't need a big budget to play the game of Google Adwords – click here to see the advantages of Google Adwords for small business.
How To Use Google Adwords Effectively
There are several ways to get your qualified customers with Google Adwords advertising by using their search ads, display ads  or app ads.  And the good news is, you pay only when a viewer is interested enough to click your ad and learn more about your product or services.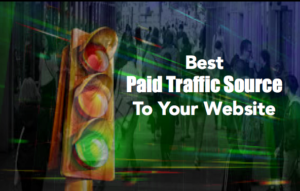 I remember when I used to be in-charged in marketing with the snack food company that I used to work with, I am the one dealing with those big ad agencies to do the TV production, commercial, social media advertising, billboard and other related marketing activities for brand awareness.
We as Advertisers pay for billboard space to advertise the snack food brand. Advertisers normally pay the billboard space based on the location (better location, higher price) and how many traffic (people) might see the ad as they drive by. The big question here is, whether those people actually notice the ad or not we as advertiser still need to pay for that billboard space.
Advertising with the internet is different. By using Adwords CPC (cost per click) bidding, you only pay for Google's ad space when users click your ad, then that's the only time Google will charge you.  You can take out the guesswork of advertising.  If a user type-in the keyword or keyword phrases in Google search engine, Google will pull out all the related topics related to that keywords. If you know how to structure your Ad campaign effectively, then this will be your best dollar spent in advertising.   If let say 300 people see your ads online and only 10 people click it, you will only pay for those 10 clicks that your ad generated and not for the other 290 people who see your ad.
Pay Per Click (PPC) advertising can work for almost any type of business. Using Google AdWords PPC network requires time and money, but I found that it's time and money well spent, because AdWords delivers measurable ROI if you know how to structure your Adwords account the right way.
How To Set Up Google Adwords Account
Setting up a new AdWords account is easy, and takes just a few minutes. Just simply watch the below video "how to create Gmail and Adwords account" – Enjoy and Have fun!
You have the option of creating your account using an existing Google account, or you can create a new account specifically for use with Google AdWords.
Then, you'll specify some basics for your account, such as your location and time zone. Finally, you'll set up billing details, so Google can accurately bill you every month.
Ready to take charge of your own Breakthroughs with Google Adwords? Get your FREE Google Adwords Training Videos Today!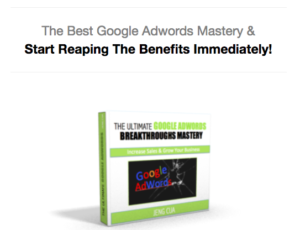 I'd love to hear from you. If you have any question about this topic, just leave your comment below. I will try my best to get back to you personally as soon as I can – jeng cua.